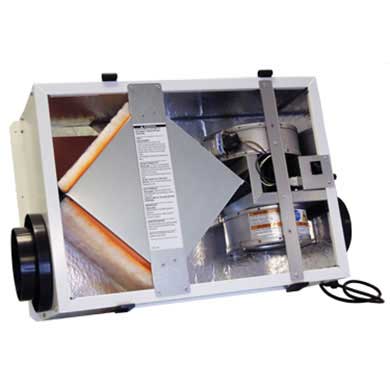 RenewAire Recovery Ventilation
RenewAire is a pioneer in enhancing IAQ while maximizing sustainability through enthalpic-core, staticplate Energy Recovery Ventilators (ERVs) that optimize energy efficiency, lower costs by reducing HVAC loads and therefore reduce environmental footprints. Our ERV technology preconditions incoming air with the otherwise-wasted energy (heat and humidity) of the exhaust air going out—all while the airstreams are kept physically separate as certified by the Air Conditioning, Heating and Refrigeration Institute (AHRI) for zero exhaust air transfer at normal balanced operating conditions. As the pioneer of static-plate core technology in North America, RenewAire is the largest ERV producer in the USA.
OPTIMIZING ENERGY EFFICIENCY
Energy efficiency is optimized by preconditioning the outside air coming in with the otherwise-wasted heat and humidity of the exhaust air going out. This exchange of energy moderates temperatures and moisture, decreases HVAC equipment needs, drives operational efficiencies and conserves energy.
REDUCING HVAC LOADS
RenewAire technology reduces HVAC loads during both winter and summer. In turn, HVAC equipment size and needs can be decreased and furnaces and air conditioners can be smaller. This process ensures efficient operations and keeps both energy use and costs low, while at the same time maintaining high-level IAQ.
Click here to see the RenewAire products we carry!
Feature
Specifications
Ventilation Type:
Static plate, heat and humidity transfer
Typical Airflow Range:
40-70 CFM
Standard Features:
Painted cabinet
Line-cord power supply
Built-in control
Unit may be mounted in any orientation
Control:
Built-in proportional runtime control and switched terminals for furnace/AC interconnect
Filters:
Total qty. 2, MERV 8, spun-polyester media:
7 1/2" x 10 1/2" x 1"
Unit Dimensions & Weight:
29 3/4" L x 19 1/4" W x 10 3/4" H
38 lbs.
Motor(s):
Qty. 1, Double-shaft standard motor
Accessories:
Backdraft damper 6"
Wall cap 6" - white, brown
Exterior thru-the-wall installation kit
Duct collar kit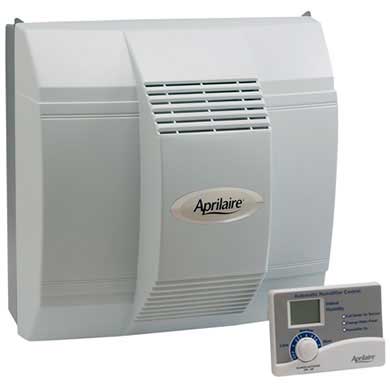 Aprilaire Humidifiers
​Adding humidity to your homes air is an important pilar of complete indoor comfort. Often, humidity is associated with the hot sticky summers we have in the Champlain Valley; but when correctly controlled, humidity provides several proven benefits to your comfort and health.
An Aprilaire humidifier will increase comfort and help retain the heat produced by your heating system through our cold, dry winters in the Champlain Valley.
Aprilaire Model 700 Humidifier
The Aprilaire Model 700 Humidifier is a large-capacity powered unit with big humidification performance to match the biggest of homes. The Model 700:
Has an evaporation capacity of 0.75 gallons per hour—among the highest capacity humidifiers sold
Humidifies tightly constructed homes up to 4,200 square foot in size
Features truly automatic control
The Aprilaire Model 700 Humidifier is a whole-home solution that helps you achieve total comfort through humidity control. The Model 700 uses a built-in fan that pulls heated air directly from the furnace. It is installed by a local HVAC professional.
Features
Delivers optimum levels of humidity control with the Automatic Digital Humidifier Control. You never have to monitor your settings or wait until you feel uncomfortable.
Provides vital service, temperature and relative humidity indicators in manual mode as well.
Performs quietly with simple annual maintenance.